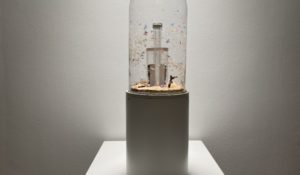 "Endless Summer"
Smartphone addiction is a reality. Physical friends are being replaced by virtual friends and real news by fake news. Virtual reality will accelerate this flight from actual reality. In a future of increasingly immersive artificial experience, what if humans succumb completely to the virtual realm while the physical world continues to deteriorate?
Endless Summer is a kinetic sculpture that contemplates an alternative but possible future where the twin environmental catastrophes of global warming and plastic pollution have spun out of control while a fortunate few have escaped into a physical and mental fantasy world of immersive virtual reality. But are they masters of this artificial environment or its slaves?
Fully contained in a small bell jar, two humans in full VR suits float inside a hermetically sealed artificial environment while a real environmental disaster howls outside. What are the wireless sensors and tubes connected to them – part of their VR system or something more sinister? What happens when the viewer pushes the start button, and what happens next?
This artwork is a rather dark, though logical extension of the artist's previous kinetic works.